All families have issues and parent counseling can offer support and guidance to any family members who are having difficulties when raising their children.
Introduction
Being a parent can be overwhelming at times. Often parents may feel like they don't know whether what they are doing is in the best interests of the family. Parenting can be particularly difficult when the parents are divorced or when parenting occurs in the context of a blended family. When a parent feels that they are not able to make the best decisions for the well being of their family unit, then therapy may help them to choose their actions appropriately. Parent counseling gives parents the life skills to parent their children and interact with their partners or co-parents and create a stronger parent-child relationship. The treatment plan given by mental health professionals will depend on your individual circumstances.
What is parent counseling?
There are many different types of families, but no matter what the family is like, all parents want to bring up their children to become happy, healthy adults who can function in whatever role they choose. Parent counseling is a type of therapy that helps parents to understand their parenting style and how to solve issues that occur within the family unit.
Parenting therapy gives parents tools to help them to take care of their children more effectively and form a stronger parent child relationship. By understanding their parenting style and the needs of their children and providing a loving environment with appropriate behavior guidance, parents can raise children who feel secure and understand what is expected of them.

It may not be necessary for both parents to go to parent counseling. Just as every family is different, so is every parent. Depending on the needs of the family, you may decide to go to family therapy alone, with your partner or your co-parent, or with your child. There is no right way to get the help that you need for your mental health. Your therapist will suggest the kind of therapy that is right for your situation.
To see a more detailed outline of what parent counseling is, go to docdoc What is Parent Couseling: Overview, Benefits, and Expected Results.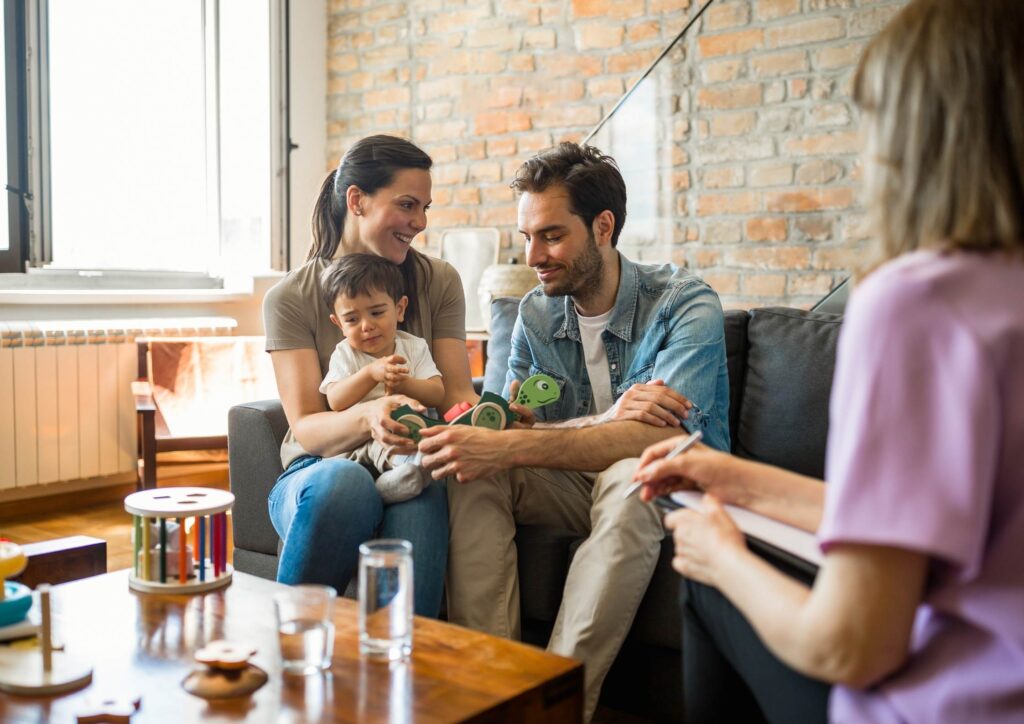 How do I know if I need parent counseling?
Every family has its problems, but not every parent feels that they need therapy. There are a number of circumstances when you might feel that some outside help is necessary. If there are problems within the family that can't be solved, then counseling may improve the situation and reduce the stress that family members may feel. To begin parent counselling is the first step in the right direction for your child's life.
Parents may disagree on how to raise their children. This often occurs after a couple have divorced, but it may also happen within the context of a loving relationship. People often follow the example of their own parents when it comes to parenting children. As a result, they may have different parenting styles, which can cause conflict between them as they do their best to parent their children. In a situation where one parent is permissive while the other is more authoritarian, it can be very confusing for children. Moreover, the child may start to feel alienated from the more authoritarian parent since they know the permissive parent is more likely to allow them more freedom. To see more on parenting styles, go to 4 Types of Parenting Styles and Their Effects on Kids.
Where children are having difficulties at school or there are conflicts within the family, it is often difficult for parents to know what to do. As children become adolescents and new difficulties arise, parents may have difficulty adjusting to the needs of their older children. Situations like this may be easier if a therapist is consulted. Sometimes this may be at the suggestion of a child's teacher, but it may just as easily be your own personal decision.
Why is it important?
Every family has its own problems and challenges. Before the problems become overwhelming, parent counseling can help parents provide a happy, healthy family situation where their children can thrive. A mental health professional is useful as parents cannot always see what their own problems are and a professional who can analyze the situation objectively will have a much better chance of finding a solution. To learn more about when to have therapy and its importance for the family go to betterhelp Parenting.
What is co parent counseling?
Co parent counseling gives divorced or separated couples the tools and life skills they need to work together to effectively parent their children. After the end of a relationship, often people feel a lot of negative emotions. It can be very difficult to understand the needs of their children and to provide emotional support.
Whether parents attend co parent counseling together or separately, it can still help parents and divorced parents to understand how to deal with their co-parent to minimize their child's stress. No child wants to see their parents arguing or disagreeing. Co-parent therapy can help parents to behave in a less emotional way and to use strategies to avoid conflict while still communicating with their co-parent and own children.
When parents remarry and form new family units, it can be difficult for the children to accept their new step-parent and family members. For the parent, dealing with stepchildren can be difficult, especially when there needs to be communication with the new spouse's ex-partner. A licensed professional counsellor can help all of the parties with any mental health issues and assist many parents in developing a parenting plan which gives the children stability. To read more about co-parenting read Encouraging Effective Coparenting in Blended Families.
What does parent counseling entail?
Parent counseling, or parenting therapy, is a form of short-term therapy which is specific to your circumstances and parenting skills. Short-term therapy may take about 12 sessions that are about an hour long. The number and duration of the sessions will depend on the need of the family. Each family is unique and therapy will address their specific needs such as parent child conflict, child's behavior and any mental health issues. It is usually provided by a psychologist or licensed professional counselor. Each treatment plan will depend on your circumstances and parental expectations.
Your mental health professional will begin by talking to all of your family members to find out what is going on in the family. Everyone in the family will have their own ideas and feelings about the family situation. By speaking to every family member, the therapist will be able to make a treatment plan that is best for the whole family. By talking to the family members, the therapist will be able to understand the coping therapies that have already been tried and be able to formulate alternative methods for dealing with problems. While the therapist may begin by talking with everyone, the treatment plan that the therapist formulates may not involve all of the family members. You may choose to attend parent counseling alone or with other family members. For more information about what happens in parenting therapy, see Mayo Clinic Family Therapy
How do I find parent counseling near me?
There are many experts in family relationships who can offer professional advice to families. Your therapist could be a psychologist or a social worker. You may also choose a qualified trained professional such as a parenting therapist. It is just a matter of finding one that is suitable for your needs. Some parents choose to ask their doctors for a referral. If you have family or friends who have had counseling, you may decide to ask them for the name of a good therapist. Where the child is having difficulties at school, the teacher may suggest parent counseling as a way of resolving them. You could just look for someone in your area. See a complete list of ways to find parent counseling at WebMD What is Family Therapy?
Conclusion
Parent counseling can be beneficial for any family. Single-parent families and families where the parents have separated or divorced can be helped by parenting therapy. Parents in blended families may also benefit from therapy. Counseling may help parents to understand themselves and to communicate with their parenting partners. It provides an objective view of the family situation and a plan for how to deal with it. Parent counseling is generally a short term therapy which may be provided by a psychologist or a social worker. The treatment plans are made for each specific family. Every parent should think about whether parent counseling could make their family into a happier, more cohesive unit.