Creating a kid-friendly veggie garden is one of the best decisions you'll ever make. It enriches a child's life and equips them with skills that can benefit them forever.
Nature is good for kids, and it's important to establish habits that promote outdoor activity. Creating and tending to a veggie garden with your children is fun, promotes well-rounded development, and encourages healthy eating.
This article is a Guest Post written by Wendy Donnelly, creator of Fun Gardening for Kids.
How to Create a Kid-Friendly Veggie Garden
If you want to create a vegetable garden that your children will enjoy, you need to carefully plan its layout and choose vegetables that are easy and quick to grow while tasting yummy enough to interest your little one.
When planning your garden, you should first pick a suitable area in your yard, plan its general layout, and then choose appropriate vegetables or fruits to fill it.
The Layout of Your Children's Veggie Garden
When planning their veggie garden, the first thing you need to keep in mind is how accessible it will be. An ideal spot will:
Be easy to reach
Allow for unrestricted movement
Be near their play area
You should ask your children to help you with the garden's layout, even if you need to set some restrictions.
Give them options of where they can plant each vegetable and explain why the areas you designate are the best.
You can also let them be creative with colorful pots and baskets or decorate the garden with painted rocks!
The Best Vegetables for a Kid-Friendly Veggie Garden
When you're choosing veggies (or even fruits) for your child's veggie garden, you need to keep in mind how much your kids like it, how quickly it grows, and how easy it is to eat freshly harvested.
Some excellent easy-to-grow options are:
Tomatoes
Carrots
Corn
Sweet Radishes
Beets
Green Beans
Strawberries
An herb garden is also a great idea if your kid likes interesting-smelling plants. You can add these to your vegetable garden to keep insects at bay or plant them in pots.
Growing potatoes, onions, sweet potatoes, and peanuts are excellent choices as well! They don't need much attention, although they take longer to mature.
The Benefits of a Veggie Garden for Kids
Children are curious by nature. Your child will love to learn how food is grown, and getting their hands dirty is a definite bonus!
Growing vegetables with children and creating a garden for them to tend to has many benefits. This could be an opportunity to look at your family values as a whole, but here are some of the benefits for your kids:
Encourages a Self-Sufficient Lifestyle
Now more than ever, you need to educate your kids about self-sufficiency. Starting a vegetable garden will show them how easy it is to produce their own food while equipping them with the skills to one day do so on their own.
If you have older children and their garden is a huge success, you can even encourage them to sell their vegetables at a local market. Developing entrepreneurship skills is also necessary when aiming for a self-sufficient lifestyle.
Develops Healthy Eating Habits
There's an unexplainable satisfaction that comes with eating fruits and vegetables you've grown from seed. Your children will love snacking from their own garden and even eating on the go while they're in their play area.
Having a kid-friendly vegetable garden will allow your children to safely get something to eat fresh from the ground whenever they feel like it.
Source of Physical Activity
Gardening is a great way to engage in moderate exercise! Your children will develop a pattern of healthy activity by working in the garden and harvesting its produce.
Builds Self-Confidence
Another payoff from growing a garden with your kids is the confidence they'll gain. Seeing how a seed they planted grows into something edible will make them proud and boost their confidence.
You should encourage this by reminding them that they've put in the work and praising them for the beautiful results.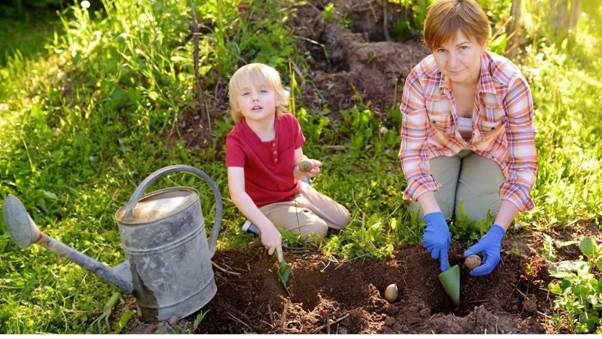 Creates Unique Educational Opportunities
Aside from the planning and planting, your kids can learn a lot from their vegetable garden.
You can teach them about different planting and harvesting methods, vegetable species, planting seasons, seed production, organic pest repellents, safe food handling, and so more!

Before You Start Digging
Getting started with a vegetable garden is an exciting process. Between the planning, buying, and digging, remind yourself who it's for: your kids!
Although the goal of your vegetable garden should be to educate your children and develop needed skills, you should also remember to have fun. It doesn't need to be perfect, and as long as the vegetables it produces are edible, no one will care about skewed lines or mismatched pots.
To really make a success of your kid-friendly vegetable garden, give your children the freedom to take the lead and only help where and when needed. 
Author Bio
Wendy Donnelly has spent decades out in various gardens around the world. But now, settled back at home she enjoys gardening with her children and grandchildren by creating special gardening spaces that entice all the senses. Wendy created Fun Gardening for Kids to share her passion and get the next generation involved in the world of gardening.