There are a number of part-time jobs for 12 year olds that they can legally do while they are still at school. This is usually through their family network..
Introduction
Having a job teach younger children valuable skills and responsibility as well as giving them their own money. While it is illegal for 12 year olds to work full-time, there are many part-time jobs for 12 year olds that they can legally do. Australia, the UK, and the USA all have child labour laws that outline what kind of jobs children can do and how long they can work. All 3 countries have similar laws, with slightly different details. Each of these countries allow children to work in the entertainment industry. Australia and the USA also allow children to deliver newspapers and advertising materials. In this article, there is a list of 12 job ideas that 12 year olds could do in any one of these countries.
Is a 12 year old allowed to get paid work in Australia?
Each of the states and territories have different laws for when children can start work. Only Queensland has a minimum age for starting work, and that age is 13. However, children can deliver newspapers or advertising material from the age of 11. There is no minimum age for working in family businesses or in the entertainment industry. Children who work need their parents' permission and cannot work more than 12 hours a week and four hours a day.
In Tasmania, there is no minimum age for a part time job or casual work, but children cannot work during school hours unless they have permission from the Department of Education. The Northern Territory only requires that any work a child does must not make it harder for the child to learn at school. South Australian law states that the work can't interfere with the child's schoolwork. In both of these places, the law does not specify what that might be, which contrasts with the other states and the Australian Capital Territory (ACT) which have quite detailed requirements to protect children.
In New South Wales, 12 year olds are not allowed to do door-to-door sales, but younger children are free to take other jobs. In Western Australia, 12 year olds can do delivery work but they must be accompanied by a parent or another adult with written permission from a parent. They cannot work full time or during school hours except with written approval from the Minister for Education.
In most states and the ACT, there are laws governing how many hours a child can work and when the child is permitted to work. In most places, children cannot work during school hours or at night. For more detailed information about jobs for 12 year olds in each of the states and territories in Australia, read Youth Law Australia: When can I start working?
Is a 12 year old allowed to get paid work in the USA?
Paid work for 12 year olds is covered by federal law in the USA. The Fair Labor Standards Act sets the rules for what kind of work children and can do. There are some jobs which 12 years olds can do because there is no minimum age. Those jobs are delivering newspapers, performing in radio, TV, movies, or theatre, and working for a family member unless the work is hazardous. If a child is working in a family business, then there are no restrictions on hours or times. Other jobs for 12 year olds are babysitting job and evergreens jobs such as planting flowers and making evergreen wreaths.
When it comes to agricultural knowledge and work, the law is slightly different. A 12 year old can work in non-hazardous farm jobs that also employ their parents or with parental consent. In addition to this, there are different laws governing the employment of children in agricultural work depending on the state you are in. To learn more about state laws, see State Child Labor Laws Applicable to Agricultural Employment on the US Department of Labor website.
Is a 12 year old allowed to get paid work in the UK?
In the UK, the minimum age for part-time work is 13 except for television, theatre, and modelling. In order to do these jobs, the child will need a performance licence and they will also need supervision 12 year olds cannot work between 7 pm and 7 am. They also cannot work during school hours or more than 1 hour before school. A child cannot work for more than 4 hours without a break of at least 1 hour and they must have a 2 week break from work during school holidays each year. There are also additional rules about school terms and school holidays. In addition to these laws, there may also be local bylaws with restrictions on work for 12 year olds. To find out the different local council restrictions on jobs for 12 year olds, you will need to check with your local council. You can find your local council here. To learn more about the UK laws, go to GOV.UK Child Employment.
12 Jobs for 12 year Olds
1.   Babysitting
It may be possible for a 12 year old to babysit younger relatives or their friends', younger siblings. However, in most places, it could be an offence to leave a 12-year-old alone without supervision for long periods of time or at night. Otherwise, babysitting is an excellent way for a mature child to earn a bit of extra money.
2.   Dog walking
Walking dogs means taking a dog on walks if their owners are unable to. A dog walker may walk the dog once or they may take the dog for walks on a regular basis. There are many dog walking services, but you could help your 12 year old to offer to walk dogs in your neighbourhood. A 12 year old would probably charge less than a service and you might find someone in your neighbourhood who would be happy to pay someone to walk their dog.
3.   Pet sitting
Pet sitters are responsible for supervising and feeding animals while their owners are away. It could be as simple as feeding a fish, but it could be more complicated when an animal needs special care such as taking medication. Pet sitters may also walk dogs or supervise them while they play.

4.   Washing cars / Yard work
12 year olds may be allowed to work for a car washing company, but it is more likely that they will wash family cars or the cars of their neighbours for some extra money.
5.   Newspaper Delivery person, (pamphlets & advertising material)
Although fewer people are getting newspapers delivered, there are still plenty of jobs for people to deliver advertising material. You will be given a route to follow and you will get paid for the number items that you deliver. Usually, the pay is well below the hourly minimum wage, but it's a great way for a 12-year-old to make a bit of extra money and get exercise and fresh air too!
6.   Plant Sitting
When people go away, they may need their plants to be watered. This is an easy job that a 12 year old could do. It doesn't pay as much as pet sitting, but there isn't as much responsibility either. And who doesn't love playing with water?
7.   Working in a family business
In all 3 countries, children are permitted to work in family businesses. It is assumed that the parents will know what their children can do and will be responsible for ensuring that their children continue their education and not be harmed by the work. Depending on the type of business, there are many different jobs that children can do. Of course, there are laws that limit what they can do and how many hours they can work.
8.   Entertainment work
Children are often needed in movies, TV, and on stage performances. This is one of the few jobs that children can do that doesn't involve working for family members or friends and a great way of earning spending money.
9.   Gardening, Lawn Mowing and Yard Work
Neighbours, family or friends might hire a 12 year old to mow the lawn or weed the garden or shoveling snow. Anyone with a garden knows there are lots of jobs that a 12 year old can easily do with a bit of supervision.
10. Cleaning Houses
There are lots of cleaning jobs that a 12 year old could do to help out a neighbour or friend of the family. Washing dishes after a party, dusting, or vacuuming are just a few of the jobs that a child could do. Light housework like many of the other jobs for children, this is most likely to be found through a family network.
11. Helping the Elderly
There are many different things that a child could do as an elderly helper. They could take out the bins, bring in the mail, or go to the shops for a few items. All of these are easy to do, but quite difficult for an elderly or frail person who might be happy to pay a local child to do them.
12. Online business
Did you know that last year a 7 year old girl earned $28 million posting videos on YouTube? In fact 2 of the Forbes Highest Paid YouTube Stars 2021 are under the age of 10. Posting to YouTube is not the only job that a child can do. If you want to know more about suitable activities, see this list of 14 online jobs for 12 year olds. The only thing you need is a good internet connection.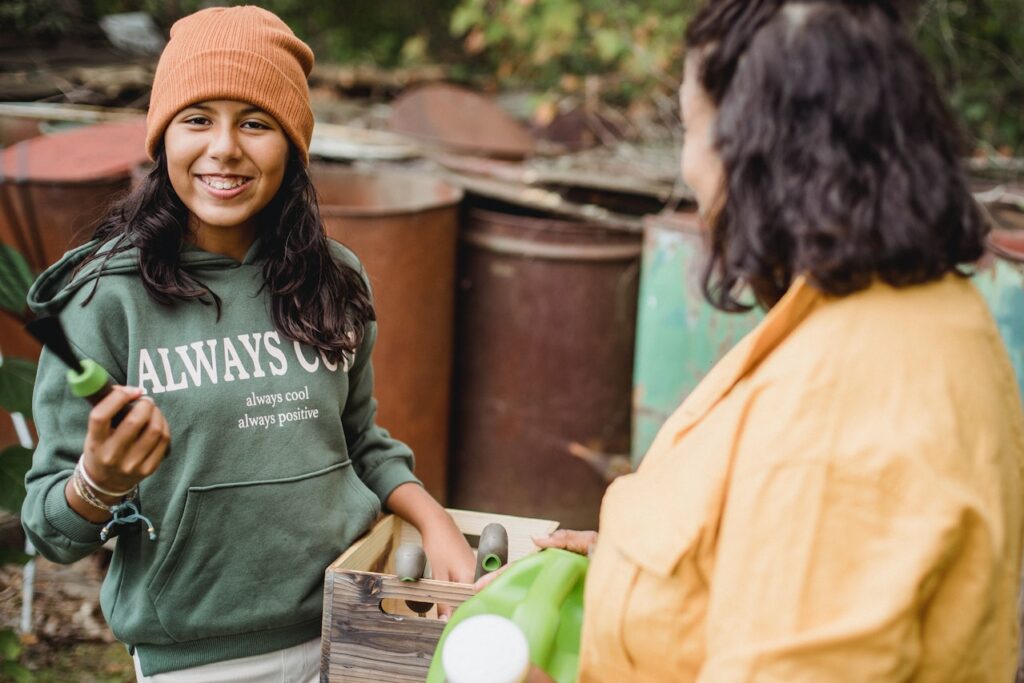 Conclusion
Most of the paid jobs that children can do will be for their relatives and local community. Working in the entertainment industry or delivering newspapers and advertising materials are the main jobs that children can do as employees. Posting to social media can also be monetised these days and there are children who can earn money online. Probably the most traditional jobs for 12 year olds are ones like babysitting, lawn mowing, and car washing. Whatever the job, these days Australia, the USA, and the UK have strong child labour laws to protect children and ensure that they get a good education.